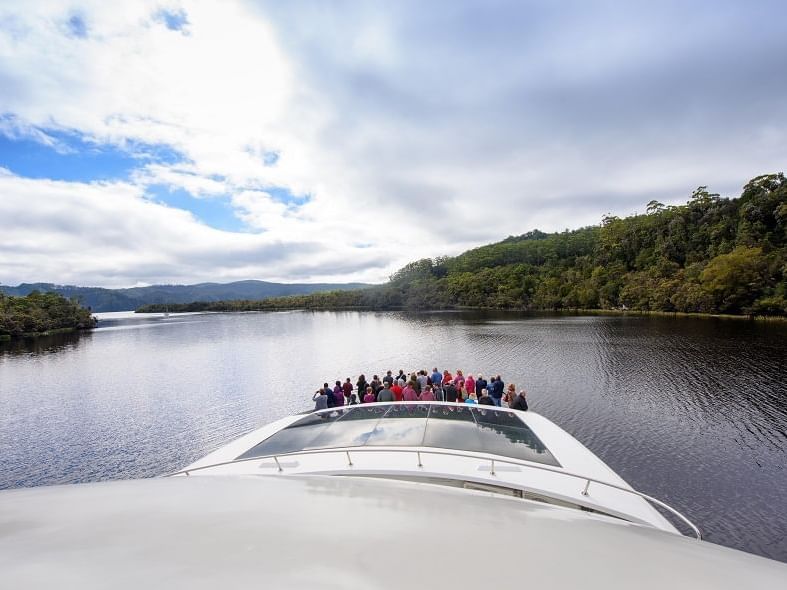 Gordon River
The elegant curves of the Gordon River have their origin at Lake Richmond in the King William Range, within the Franklin-Gordon Wild Rivers National Park.
This beautiful river flows west over 172 kilometres and descends 570 metres on its journey to Tasmania's west coast, where it empties into Macquarie Harbour through the narrow opening at Hell's Gates.
A wilderness for the whole world
The Gordon River is a very special place, unlike anywhere else on Earth. It's so special that in 1982 it was included in the areas of Tasmanian wilderness inscribed on the UNESCO World Heritage List, satisfying more criteria than any other World Heritage property at the time. Today, the Gordon River is forever protected within the 1,584,000-hectare Tasmanian Wilderness World Heritage Area (TWWHA),
A rare rainforest
The lower section of the Gordon River flows through an untouched area of wet, cool climate rainforest. This uninhabited wilderness protects rare rainforest trees that are found only in Tasmania, including leatherwood, myrtle, sassafras and the slow-growing Huon pine—one of the oldest living organisms on earth, which can grow for up to 3,000 years. Huon pine is a protected species, and its salvaged timber is highly prized for woodturning, furniture making and wooden boat building.
Nature's mirror
The Gordon's water is pure, fresh and drinkable, with a distinctive, dark tea colour—caused by natural tannins that seep into the river from buttongrass plains growing within its catchment area. This dark colour creates the river's mirror-perfect reflections—on calm days you can see a perfect, inverted image of the forest shining on the water's surface like a natural work of art.
Wildlife of the Gordon
The thick vegetation lining the riverbanks is home to native Tasmanian wildlife, including the elusive platypus, which lives in burrows along the banks of the river. Tasmania's mammals are largely nocturnal, so you're most likely to see bird life here. Keep watch for soaring white-bellied sea eagles and wedge-tailed eagles overhead, or smaller birds in the forest canopy, including the rare pink robin. You may be even be lucky enough to catch the vibrant blue flash of an azure kingfisher in flight.
The Franklin Campaign
The Gordon River, and adjoining Franklin River, were once at risk of destruction, when a hydro-electric dam was proposed for the Franklin River during the early 1980s. Major opposition to the project led to Australia's biggest environmental and political campaign, which ultimately prevented construction of the dam and led to the proclamation of the Tasmanian Wilderness World Heritage Area in 1982.
Gordon River Cruise
The best way to explore the Gordon River is on the Gordon River Cruise, which departs from Strahan, and crosses Macquarie Harbour before entering the lower reaches of the river. The Cruise includes a stop at Heritage Landing, 14 kilometres upriver, where a boardwalk leads through a section of the rainforest.