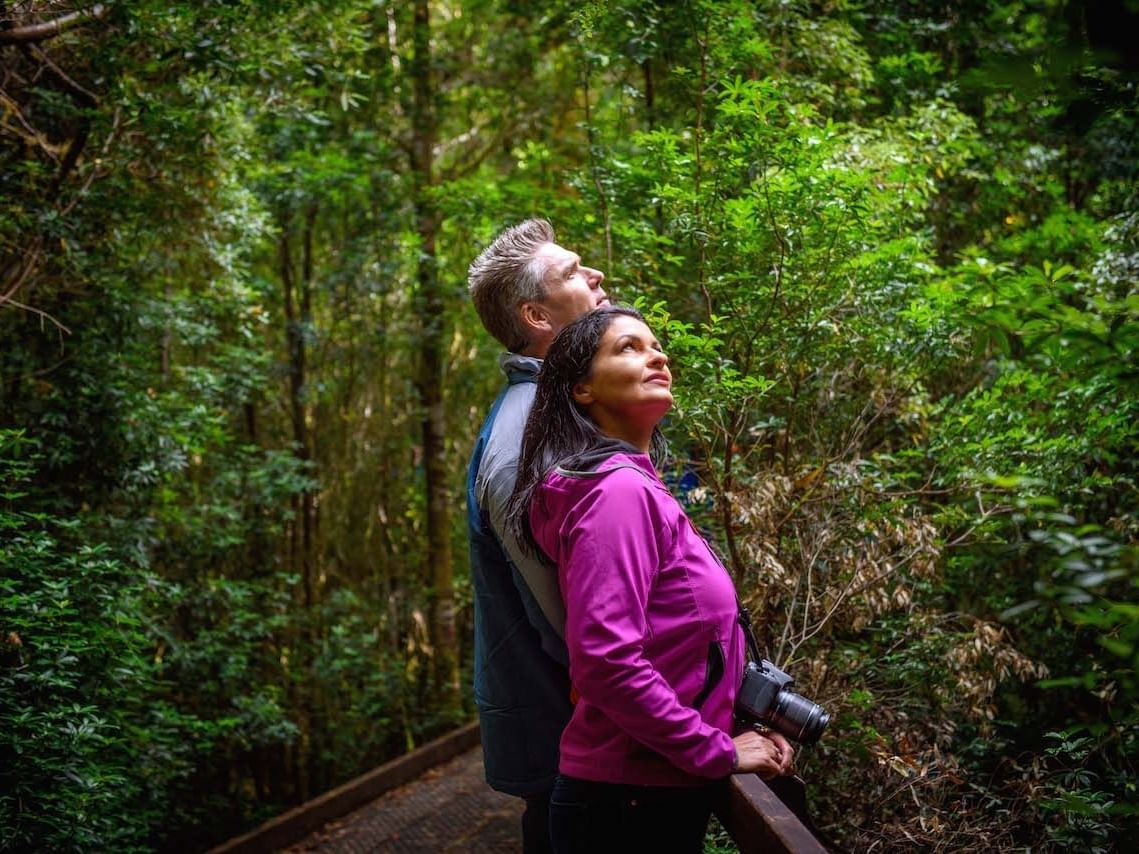 A Rainforest Like No Other
The rainforests of Tasmania's remote west are not your typical, movie-set forests—all steaming jungle, hanging vines and coiling pythons. These protected rainforests are cool, dark and damp—peaceful havens where the trunks of rare trees are cloaked in velvety green mosses and lichens.
A fragment of Gondwana
Tasmania contains the largest tracts of cool temperate rainforest in Australia. Some of the trees and plants that grow here can be traced back over 60 million of years of evolution—all the way back to the ancient Gondwanan landmass. Much of Tasmania's precious rainforests are protected within the Tasmanian Wilderness World Heritage Area (TWWHA), and contain plant species that occur nowhere else on the planet.
Ancient wonders
Here, towering myrtle trees can grow to heights of 50 metres, and live for 500 years. Sassafras is an aromatic evergreen tree that is prized for its dramatic timber. Celery top pine, a native Tasmanian conifer, flourishes here and can live for up to 900 years. The leatherwood tree bursts into flower each summer, it's delicate white blooms becoming the source of Tasmania's coveted leatherwood honey. And the fabled Huon pine, Australia's oldest living tree, grows along the riverbanks, reaching up to 3,000 years of age.
These are some of Australia's oldest plants, and they all evolved long before any eucalypts grew here.
Exploring the rainforest
The Franklin-Gordon Wild Rivers National Park is a remote place and much of it is inaccessible. However there are ways to experience the west coast's wilderness rainforests for yourself. Along the Lyell Highway, you will find several places to stop and take a short walk in the forest, including the Franklin River Nature Trail, Donaghy's Hill lookout and the boardwalk track to Nelson Falls. The Gordon River Cruise also includes a stop at Heritage Landing, where a boardwalk trail leads through a beautiful tract of cool temperate rainforest.
Artisan timbers
Furniture makers and wood craftsmen prize Tasmania's rainforest species, particularly sassafras, Huon pine, celery top and myrtle. Today, exquisite furniture and timber artefacts are crafted using salvaged or sustainably sourced rainforest timbers.
You can visit shops and galleries in Strahan to see work by timber designers and artists, and visit at Wilderness Woodworks on the Esplanade to see expert wood craftsmen at work.