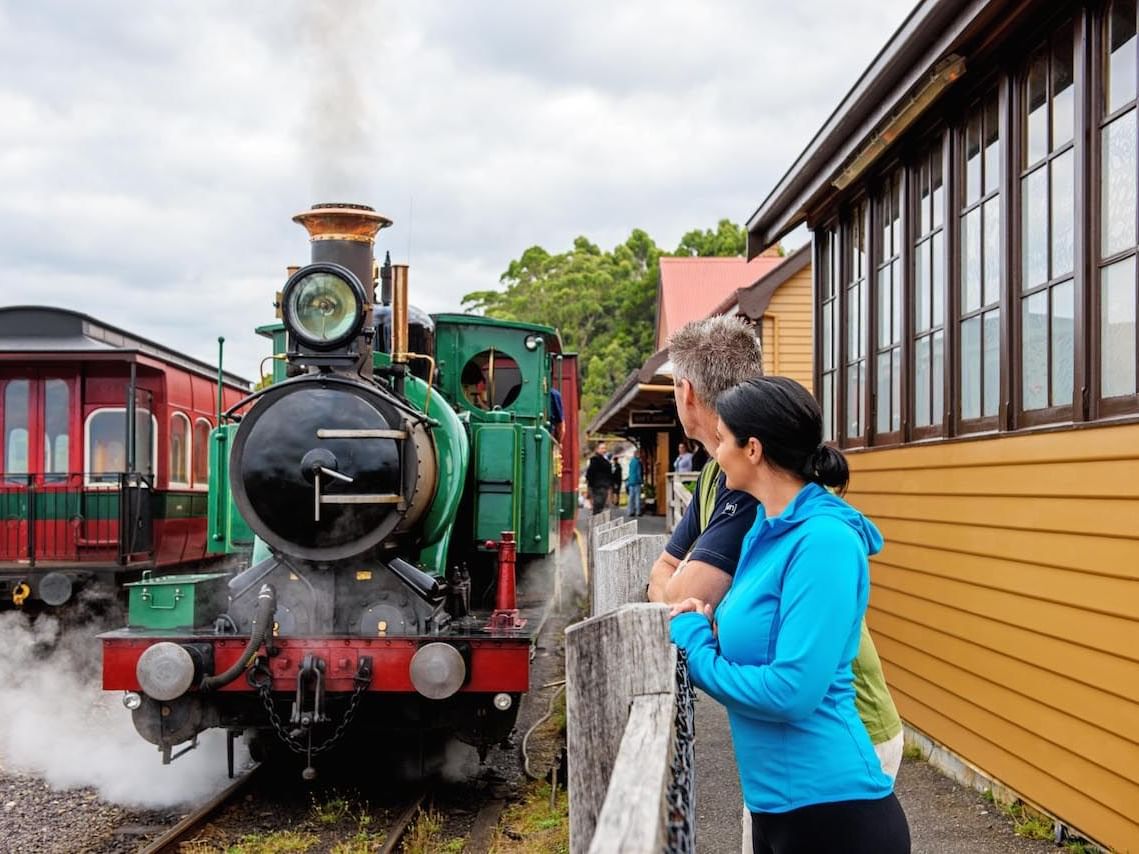 Rail
Rail has been a major part of Strahan's history since the town was founded in 1880.
During the 1890s, mining development on the west coast created the need for rail services, and before long a network of narrow gauge railways and tramways were servicing mines throughout the region.
The most significant of these lines were the Government Railway, which ran from the mines at Zeehan to the Strahan Wharf, and the Mt Lyell Mine Company's Abt railway (now known as the West Coast Wilderness Railway), which ran from Queenstown to Regatta Point in Strahan.
Regatta Point Railway station was built in 1899 as the terminus for the railway lines from Zeehan and Queenstown.
The Abt Railway / West Coast Wilderness Railway
Queenstown was once the site of Australia's largest copper mine. But transporting the mine's rich supply of copper to market meant traversing some of the most mountainous terrain in the state. The solution to this problem was the construction of a rail line between Queenstown and Strahan that used an innovative rack and pinion rail system invented by Swiss engineer Dr Roman Abt.
The Abt system.included a third rail, comprising solid bars and vertical teeth, that engaged with cogwheels on the underside of the locomotive, enabling trains to ascend through the west coast's mountainous landscapes—some of the steepest grades in the world.
The Abt Railway operated between Strahan and Queenstown from 1897 until 1963, when the line was closed. After many years of restoration and redevelopment, the railway was reopened in 2002 as the West Coast Wilderness Railway. This unique heritage and wilderness experience invites visitors aboard a restored Dubs and Co Abt steam train which follows the original rail line through the mountainous landscapes and lush rainforest between Strahan and Queenstown.
The Government Railway
The railway line that once ran between Strahan and Zeehan operated between 1892 and 1960. Known as the Government Railway, this line connected the Abt Railway that ran from Queenstown to Strahan, and the Emu Bay Railway, which ran from Zeehan to Burnie on the north west coast. This network meant the entire west coast area of Tasmania was connected by rail. The line primarily serviced the many mines that once operated throughout the west coast region.
The walking track along Strahan's foreshore traces the original path of the Government Railway, which followed Strahan's shoreline through town from Regatta Point, running parallel to Ocean Beach before heading north along what is now the road from Strahan to Zeehan.
After the line's closure on 2 June 1960, the tracks were pulled up and dispersed, but evidence of the old railway still exists in Strahan. Many of the timber sleepers were salvaged and used in houses and gardens around the town. The original turntable for the Strahan–Zeehan line was moved to Regatta Point and the site of the old turntable in Andrew Street is now a circular rose garden!