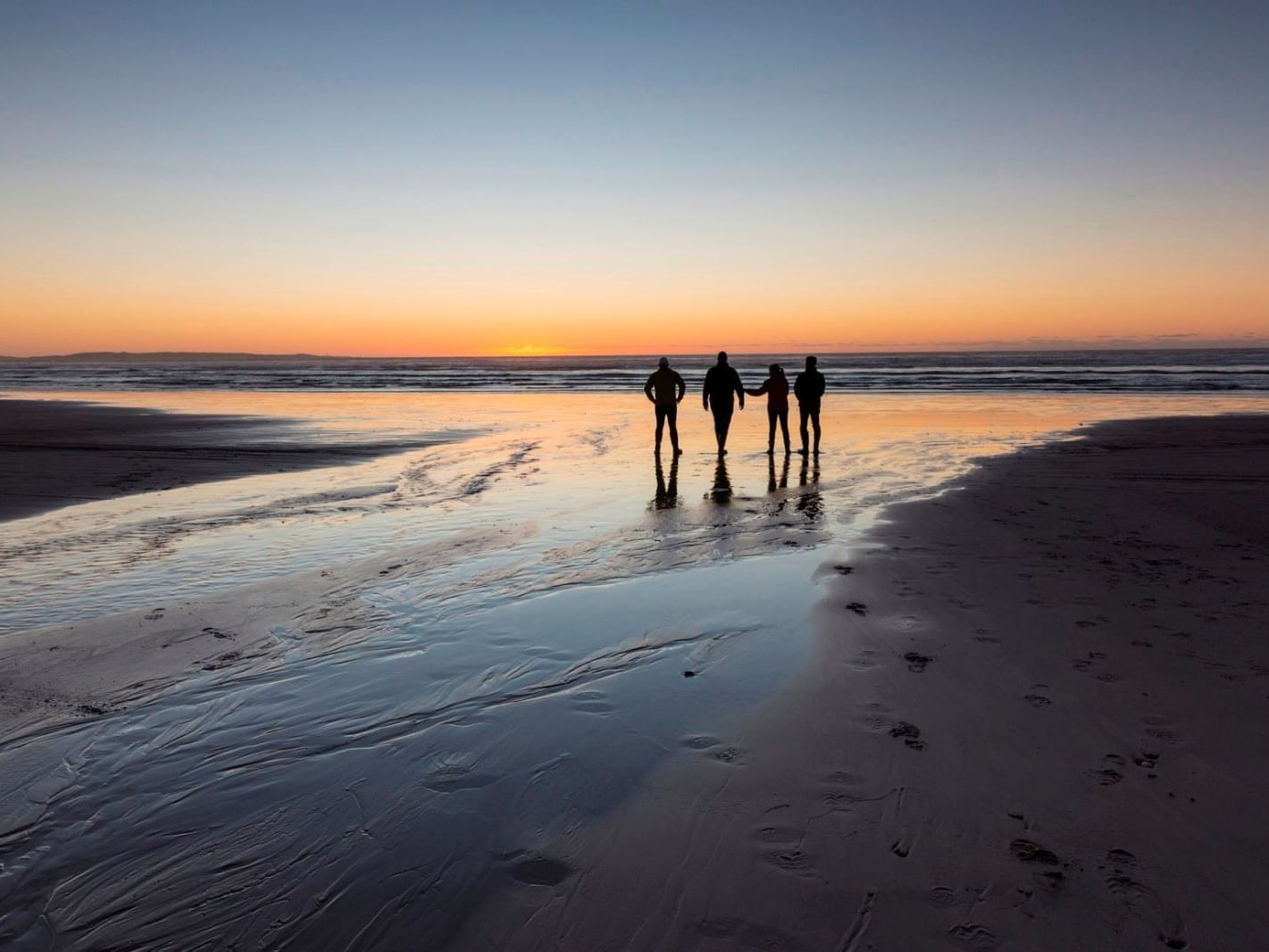 Ocean Beach
If you want to get a sense of just how wild, beautiful and remote Tasmania's west coast really is, take some time to visit Ocean Beach.
Once known as Great Roaring Beach, Ocean Beach is Tasmania's longest beach. This uninterrupted expanse of sand stretches for more than 30 kilometres, between Trial Harbour in the north and Macquarie Heads in the south.
Wild waves and west coast sunsets
Ocean Beach is only six kilometres west of Strahan, but it feels like the middle of the wilderness. The powerful swells of the Southern Ocean meet this coastline after travelling across 20,000 kilometres of open sea, bringing with it the bellowing winds of the Roaring 40s. This is a wild coastline, with mighty waves and treacherous rips. The effect can be spectacular when you're standing safely on the shore, watching the power of the sea and the ever-changing palette of sky and weather.
Ocean Beach is unpatrolled and not safe for swimming, but you can still spend hours here, walking and exploring. Take a long walk and beachcomb for shells or the endless variety of smooth, coloured stones that sometimes wash up. And Ocean Beach sunsets are incredible—watching the glowing globe of the sun melt into the liquid horizon and turn the ocean gold is a sight you'll never forget.
Short-tailed shearwaters
Between October and April, short-tailed shearwaters (or mutton birds as they're commonly known) nest in the dunes behind the beach, and you can watch thousands of them fly in to return to their burrows at dusk.
These remarkable seabirds (named for their graceful oceanic flight) make the 15,000-kilometre migration from the Arctic region to this nesting site each year, and spend the summer months breeding and raising their chicks. This epic journey can take six weeks of continual flying (they typically stay out at sea, and don't land during the migratory flight). It's thought that 18 million short-tailed shearwaters migrate to Tasmania each year, returning to around 170 colonies across the island.
Shearwaters are a traditional food source for Tasmanian Aboriginal people and the local community still maintains this important cultural practice. European settlers, who also harvested the birds for food, were the first to name shearwaters 'mutton birds'.
A desert among the rainforest
A huge network of coastal sand dunes fringes Ocean Beach, extending along the coast and stretching for kilometres inland. Some of the most spectacular are found at Henty Dunes, where these natural sand formations can grow up to 30 metres high.
Formed by the relentless winds of the Roaring 40s, the dunes rise like a white desert in the otherwise lush west coast landscape. You can explore Henty Dunes on foot, or try your hand at sandboarding or a quad bike tour. The Henty Dunes are located 14 kilometres north of Strahan, on the road to Zeehan.