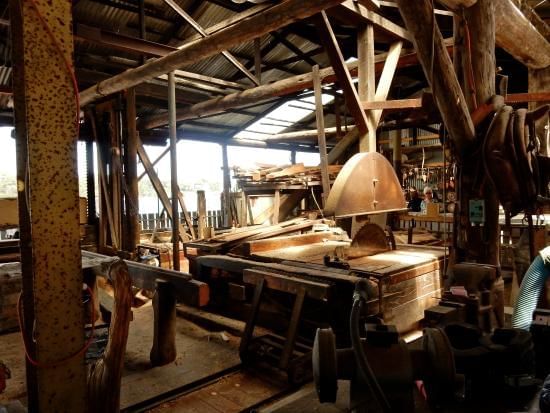 Chip Off The Old Block: See Antique Equipment In Action At Morrison's Huon Pine Sawmill
Finding Morrison's Huon Pine Sawmill isn't difficult for Strahan visitors. When strolling along the esplanade, you won't be able to resist the delightful fragrance of freshly-cut Huon pine. This is a fourth generation family business which harks back to the romance and pioneering spirit of early loggers who navigated intrepid rivers to obtain the precious timber.
Morrison's is one of the oldest sawmills still in operation with a fascinating demonstration of the antique equipment in action given each afternoon. You will have the opportunity to watch log cutting and wood turning activities.
Demonstrations are coordinated with Gordon River cruises, so check for exact times. This is also the perfect opportunity to buy mementos and gifts with a range of wooden artifacts as well as Huon pine offcuts available for purchase. Items such as cutting boards make useful souvenirs and prices are highly competitive.
Take time to immerse yourself in the Morrison family history room. The intriguing story of Tasmania's timber industry is told through old photographs such as those which show Huon pines being towed back to Strahan in huge log rafts. Of course, many logs didn't make it and now, Morrison's is one of only two businesses which are licensed to salvage Huon pine. Even today, some of the logs found are stamped with the Morrison brand, having been cut down by family members over fifty years ago.
Morrison's Huon Pine Sawmill gives you the chance to see and touch a tangible piece of Strahan's past. Make sure you visit during your stay in this historic town.