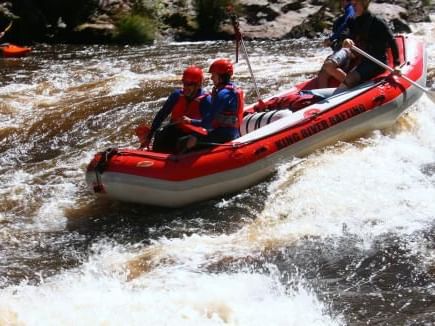 Nature At Its Finest: Adventure On The Derwent And King Rivers With King River Rafting
There is no better way to appreciate Mother Nature than spending a day rafting on Tasmania's iconic rivers. King River Rafting offers tours on the Derwent River near Hobart and King River near Queenstown. They can also organise custom tours for groups if you have a particular request.
The Derwent River with its gentle rapids and calm reaches is an excellent introduction to rafting. Travelling between Bushy Park and Plenty, this is a leisurely trip with lots of time to take in the scenery, swim and maybe have a water fight. Points of interest include the pylons of Broken Bridge, an old road bridge that was washed away seventy years ago. Of course, the tranquil rural landscape and opportunity to see wildlife such as sea eagles and the elusive platypus are highlights of the day. The changing colours of the seasons are beautifully captured during this magical day on the water.
The King River provides a more challenging experience when ample rainfall and dam releases allow this waterway to show its true majesty. This is wonderful wholesome fun with just a touch of excitement and adrenalin added. Equipment is top quality and safety is always the first consideration. As you negotiate rapids, clamber rocks and float peacefully with the current, the backdrop changes from rainforest with ancient Huon pines to coastline near the sea. Highlights can include places like the Rhododendron Pool where mining companies once held picnics. Combine your rafting trip with a West Coast Wilderness Railway ride for the best of both worlds.
A rafting trip gives you the opportunity to see parts of the environment that are inaccessible by any other means. Make sure to include this adventure in your travel plans when visiting Strahan