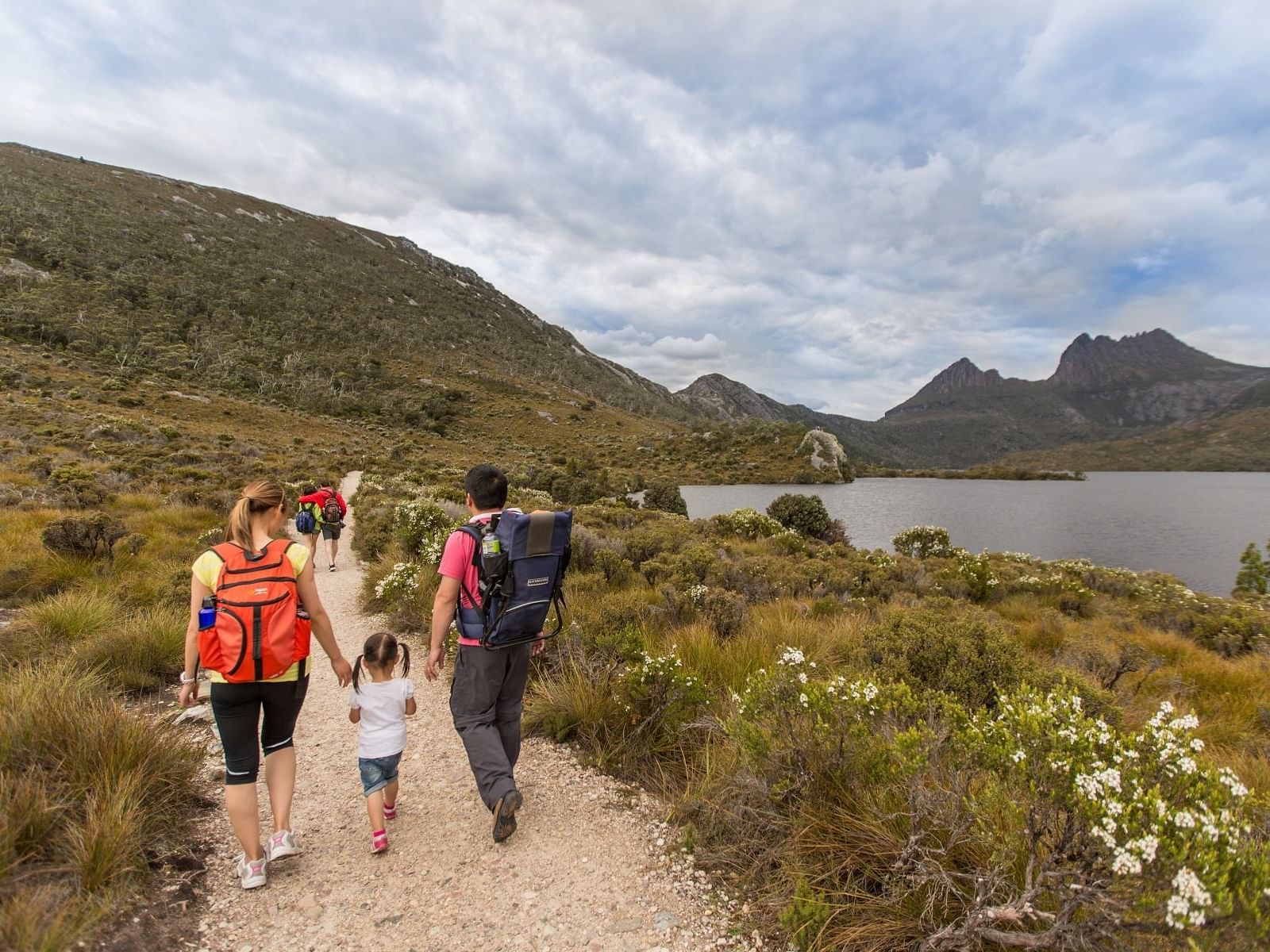 North to west: top kid-approved pitstops
Home to UNESCO World Heritage Wilderness, mining history and quirky towns, the west coast is jam-packed with family friendly adventures. For the road-trippers joining us from northern Tasmania, we've put together the ultimate list of kid-approved pitstops, sure to replace the dreaded 'are we there yet?' with 'where to next?!'.
Wings Wildlife Park, Gunns Plains
You've found a winner when the pitstop involves cuddling a koala! Wings Wildlife Park is home to over 150 species, including native wildlife, birds of prey, fish, meerkats, farm animals and reptiles. Talks are run throughout the day, as well as personal animal encounters (grab a happy snap of the kids with a monkey or a snake!). Pack a picnic lunch to enjoy in the park or tuck in at the café.
Tassie devil joeys all rugged up. Image: Wings Wildlife Park
The Tarkine
Located in the far north-west of Tasmania, The Tarkine is the second largest temperate rainforest in the world. This remarkable wilderness is home to walks, lookouts and picnic spots that are perfect for the little ones. Some of our favourites along the Tarkine Drive include Edge of the World, Big Tree at Dip Falls, Trowutta Arch, Sumac Lookout, Lake Chishlom (look out for a platypus!) and Rapid River. Why not see who can spot the tallest tree? Or the most unusual plant?
Spotting platypus at Lake Chishlom. Image: Jess Bonde
Waratah
Sitting just on the edge of the Tarkine is Waratah. The kids will be amazed by the waterfall in the middle of this small town – a great place for a picnic. You can also learn all about Waratah's tin mining history at the museum. About 10km away is the spectacular Philosopher Falls. Look out for colourful fungi, particularly in autumn!
Waratah Falls in the heart of the town. Image: Places We Go
Corinna
Corinna is unlike any other place in the world. Located on the banks of the Pieman River, you're truly immersed in the remote western wilderness. In fact, you'll need to take a trip on the 'Fatman' barge to get there! Kayaking is a popular activity for families of all ages, as are the many wilderness walks and the river cruise. For a bite to eat or quick refreshment, the Tarkine Hotel and Tannin Restaurant offer delicious meals made form locally sourced produce.
Kayaking adventures. Image: Tourism Tas & Rob Burnett
Tullah
This quiet lakeside town is home to attractions the kiddos will love. For those obsessed with all things cute and cuddly, Lyn's Teddy Bears is a must-do. Or climb aboard the Wee Georgie Wood Steam Railway for a 20-minute tour that will transport you back to another time. Take in the view of Lake Rosebery while enjoying a meal at the Lakeside Bar & Grill.
Lakeside tranquility. Image: Ollie Khedun

Montezuma Falls
If your kids are a bit older and up for really stretching the legs, Montezuma Falls is one of our favourite walks. Located around 2km out of Rosebery, Montezuma Falls is the highest waterfall in Tasmania, standing at 104m. The track is easy, level and will take around three hours. The weather on the west coast can be unpredictable, so remember to pack warm layers, sturdy shoes and raincoats.
Swinging bridge at Motezuma Falls. Image: Sarajayne Lada
Cradle Mountain
The Cradle Mountain – Lake St Clair National Park is a family favourite. Make snow angels in the winter or marvel at the rich autumnal shades at the turning of the fagus – it's stunning all year round. There are so many walks to choose from. For younger children, the Enchanted Walk will only take around 20 minutes. For those up for something longer, the Dove Lake circuit features incredible views of Cradle Mountain. Who can spot the most wombats during your visit? Head to Ronny Creek and you'll be counting in no time. Or head to Devils@Cradle Wildlife Park to meet wombats, quolls, and of course, Tassie devils.
If you're extending your pitstop at Cradle, visit our partner accommodation Cradle Mountain Hotel.
Magical winter weather. Image: Piotr Babis
Zeehan
Zeehan is about a 30-minute drive from Strahan – an intriguing final pitstop or a fun activity during your stay. Zeehan is famous for its mining history and features an impressive collection of minerals at the West Coast Heritage Centre. Wander the historic Gaiety Theatre or explore the Spray Tunnel, a 100m abandoned railway tunnel – the kids' imaginations will run wild.
Exploring the Spray Tunnel. Image: Stu Gibson
Henty Dunes
After a long trip in the car, shake out those legs at nature's very own playground, Henty Dunes. These massive dunes extend 15km along the coast and reach up to 30m in height. For those seeking an adrenaline rush, toboggans can be hired from local Strahan businesses. It's a fair workout scrambling back up the dunes, but a super fun way to burn up excess energy! Hat, sunscreen and sunglasses are a must.
Adrenaline rush at Henty Dunes. Image: Piotr Babis
Destination: Strahan
The family fun continues from your base at Strahan Village. Explore the west coast wilderness by boat or train, tuck in at Hamer's and The Kitchen, or get ready for a belly laugh at Australia's longest running play, The Ship That Never Was.
The Ship That Never Was. Image: Stu Gibson
Share your journey!
We love seeing your west coast adventures! Tag us on Instagram @strahanvillage