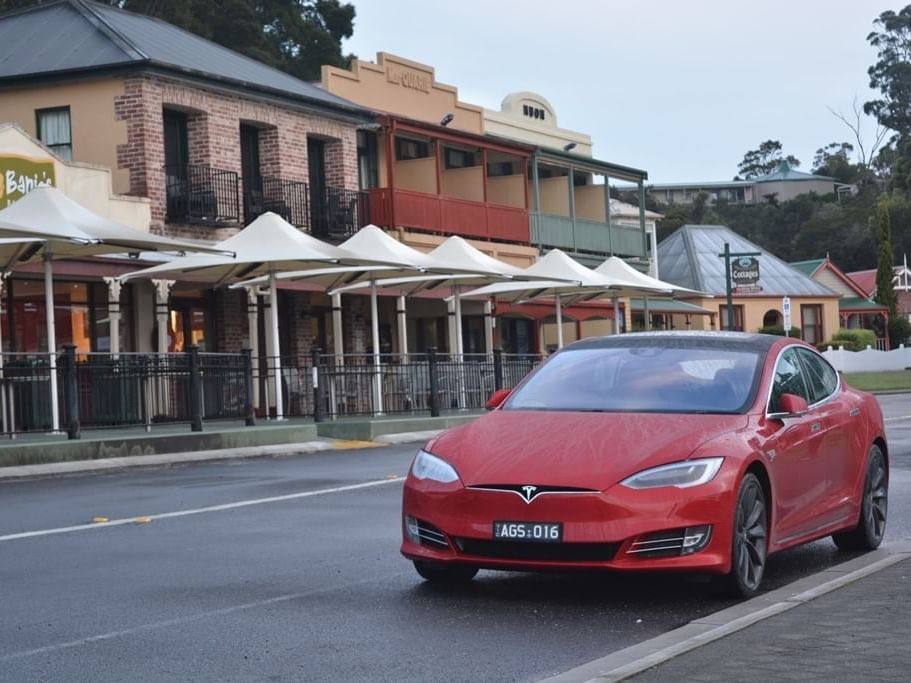 Touring Tasmania in the New Tesla Electric Vehicle | Day Two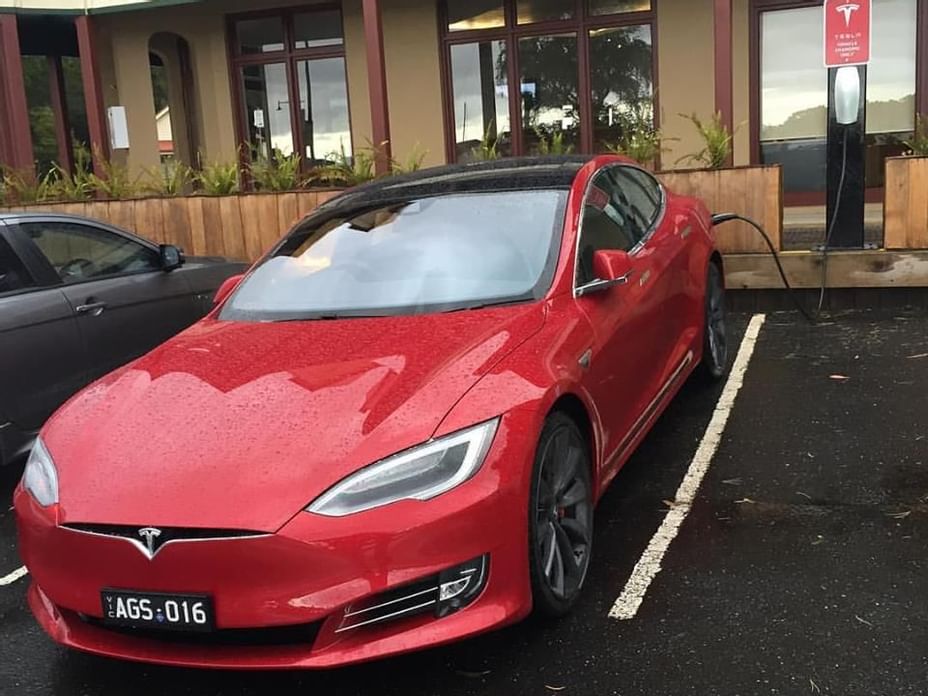 The RACT General Manager of Member Assist is testing the range of electric vehicles over the next few days on a journey around Tassie to determine if they will be a viable alternative transport for use in the near future. Follow his journey below.
Day 2
Sometimes the best laid plans go astray. We'd invited the media to get a first-hand look at the P90D Tesla at the Spirit terminal before I headed for Strahan Village. A mix up in time for the event and the need for the TV camera guys to get lots of imagery meant I was still sitting in Devonport at 10.45am well over an hour behind my original schedule.
I finally hit the road in earnest with the first plan to get to Burnie, drop into our RACT branch offices there for a few moments to say hello. The girls in the office ever interested in what I am driving spotted the Tesla but couldn't work out what it was another said she didn't recognize the badge. Anyway 3 trips around Burnie later each one had their pre-conceived views on electric cars blown away. One was even heard to utter a four letter word as we accelerated onto the Bass Highway. Next stop was a friend a few kms up the road who I had mentioned I might need to use his three phase plug for a top-up in case I looked like being marginal on getting to Strahan. It wasnt until he thought he should check what all the noise was about in this "ludicrous" mode. So we found a quiet piece of 100km/h road, stopped the car, switched to ludicrous and nailed the accelerator. I wasn't counting as I was pinned against my seat, but 3 seconds to 100km/h sounds about right.
After I steered him back in the direction of his workshop we attempted to plug in for a quick boost of energy. Cables all sorted both ends plugged in, Nothing! Re-checked plugs, switches settings still no joy. Just to make sure it wasn't the car or equipment we changed to a 15amp plug and it started charging, but it was only delivering 10km range per hour and I want an extra 50kms pronto. A quick ring to a sparky tells us five pin three phase sockets need the middle pin connected to neutral, clearly this wasn't the case with this one. However a guy around the corner did have one and we plugged in there for 45 minutes and I got the insurance I was looking for.
Leaving Burnie with 379kms range I felt comfortable I had plenty, the navigation system said I'd have 20% remaining by the time I got to Strahan Village. Through the first 40kms we relative stayed on track, but I noticed as the outside ambient air temperature fell from 13Deg C in Burnie to 6Deg C 80kms down the road, add to that a climb to the highest point on the Murchison Hwy and the estimate remaining when I arrived at Strahan got down to 2%. The regenerative function which puts some charge back into the batteries but also really washes off some speed in downhill sections, so much so I was able to pretty much use it instead of the breaks to slow me down when required. The hill down the other side and an increase in ambient temperature put the odds back in my favour and it stayed at 15% for the remainder of the drive.
About 110kms south of Burnie I needed to stretch my legs so I thought I'd stop at Tullah which was at one time a HEC town which was established to build the Reece Dam. I'd spent some time here as a kid and wondered at the time how they could have such a lush if not soggy footy oval when the best Queenstown could do was gravel? Anyway I digress, back to the subject at hand. Just on the topside of town was a deserted petrol station and the irony of driving the Tesla hit. I'd stopped in an old Hydro town, parked at the bowsers of a disused petrol station in an electric vehicle!
I've had a few technical glitches with the Tesla today but I don't know if operator error was causing them. The TV guys thought it was cool how the door handles popped from the doors when I approached with the key-fob (which is the silhouette shape of a Tesla) in my pocket, so they wanted me to do it a couple of times while they got some footage. I decided it might be easier to just press the button, which happened to be the roof of the fob to lock and unlock, seems like the P90D doesn't like that too much. It decided to stay permanently locked and wasn't responding to the button at all. I thought that was going to be embarrassing, I decided I'd walk away from the car to get out of range then walk back towards it, the doors unlocked and I breathed a sigh of relief.
The second was the cleverly disguised charge port. I'd taken particular note on day one from James how this operated. When I got to Strahan Village with around 80km range left, I backed up to the newly installed Tesla charger (located at the property) only to find I was unable to open the flap with any of the methods I was shown. I tried each way a few times, took the "if all else fails read the manual" approach and located the appropriate page in the manual, remembering this is a tesla and the manual was never going to be a book. The entire manual is electronic and can be accessed via the 17" touchscreen. It was actually easier than a book. As an enhancement maybe a search functionality might also be useful (it may actually have one, but I couldn't see it). Anyway appears I was going about it the right way but with no results. Again scratching my head I went back and pushed the flap in frustration, went back and pushed the button to open it on the screen and magically it opened?
After a long day and around 280kms I finally plugged the Tesla in, the green lights lit up and charging commenced. The vehicle was accepting just under 100kms range per hour, so around four and a half hours for a full recharge. I'll be needing every bit of it tomorrow heading initially 300kms to Hobart including big climbs out of Queenstown and Mt Arrowsmith, a few hours charging then another 200kms to Freycinet.
I'd used 300kms of range today to travel 200kms. This was about what I expected. I may have also lost a bit of battery performance due to the colder weather down the coast. If this rings true tomorrow I'll be looking at 450kms range to do 300kms. I hope I'm right!

Now for a personal recharge at View 42 Restaurant at Strahan Village and some much needed sleep in one of their ideally located rooms overlooking Macquarie Harbour.